Episode 44: Structures to Succeed for Clients with ADHD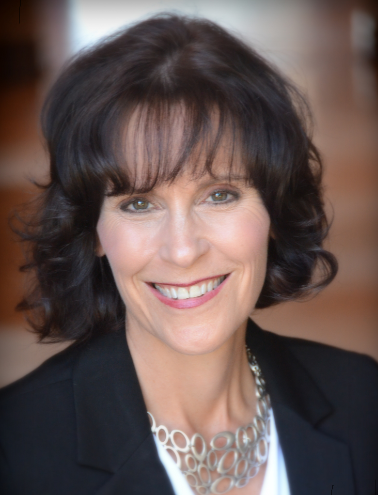 Episode 44 of the NAPO Standout Podcast features Cindy Jobs, NAPO Member since 2012 who will discuss the organizing niche for individuals who have ADHD, starting with an overview of the disorder and how it impacts day-to-day functioning.
As an expert in this field and certified organizing coach,  Cindy will introduce listeners to the specific challenges that come along with helping clients who are neurodiverse to better structure and set up their lives for success. Time management is one of the most significant barriers to overcome, and Cindy shares some strategies for helping clients better plan their time and gives us some helpful tools that can be implemented in their home and work lives. She discusses the problem with hidden boxes and bins and why clear containers and plenty of visual cues are effective for ensuring that these clients stay in control of their environments. We talk about approaching these people in the most thoughtful way, and then we dive into the differences between consulting, coaching and therapy and how each has their unique outcomes.
Tune into this episode to hear more about chronic disorganization, ideas around labeling and filing and the first steps to becoming an organizer in this space!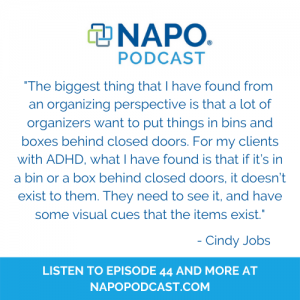 Key Points From This Episode:
The encounter that set Cindy on the path to specializing in helping those with ADHD.
What ADHD stands for, and the three broad categories.
Advice for those who are interested in working in the ADHD community.
Visual cues and time management as two of the most important considerations.
The difference between situational disorganization and chronic disorganization.
How to approach clients whom you suspect may be struggling with ADHD.
The distinction between consulting and coaching and why the latter is more sustainable.
The importance of remaining a life-long learner and finding an accountability partner.
And much more!
Links Mentioned in Today's Episode:
Cindy Jobs — https://www.cindyjobs.com/
Macy's — https://www.macys.com/
NAPO — https://www.napo.net/
NAPO University — https://www.napo.net/page/Education
Sari Solden — https://www.soldenfrank.com/sari-solden
A Radical Guide for Women with ADHD — https://www.amazon.com/Radical-Guide-Women-ADHD-Neurodiversity/dp/168403261X
Ari Tuckman — http://adultadhdbook.com/
Institute for Challenging Disorganization — https://www.challengingdisorganization.org/
Time Timer — https://www.timetimer.com/
Denslow Brown — https://coachapproachfororganizers.com/