Episode 1: Secrets Of Success With Geralin Thomas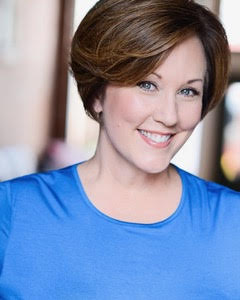 Geralin Thomas founded her business, Metropolitan Organizing LLC, in 2002. In addition to residential organizing, she is a career coach for professional organizers specializing in creating and growing successful, profitable businesses.
She is a speaker and author of From Hoarding to Hope, Understanding People Who Hoard and How To Help Them as well as Declutter Your Home: Tips, Techniques and Trade Secrets. She has been seen on A&E's TV show Hoarders, the Nate Berkus Show, NBC's the Today Show, Fine Living Network, just to name a few.
She was voted best chronic disorganization expert and has been a NAPO instructor since 2006, past president of NAPO North Carolina, NAPO North Carolina ambassador and on NAPO's education committee.
What you'll learn about in this episode:
What's the best way to start out if you're new to the industry
Why building your credibility and your professionalism is essential to building your business
What you can do to build your credibility
How to use social media to your advantage
How to build a relationship with a brand
Using NAPO to build relationships nationwide
Why steady marketing is a must to grow your business
How to craft an "elevator" speech
The one marketing tool Geralin can't live without
How to do what you're good at and hire out the rest
Employees vs. Independent Contractors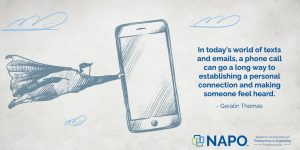 The Golden Nuggets:
Do what you're good at and hire out the rest. – Geralin Thomas
There's a lot to know when you're working with independent contractors but managing their expectations and your client's expectations is the key to a successful relationship. – Geralin
Thomas
Master faster. Get faster at the rote parts of your business so you can spend your time doing what you love to do. –Geralin Thomas
Want to find your calling? What problems do you love to solve and what would you do without getting paid? The answer to those questions will go a long way to answering that question. – Geralin Thomas
The easiest way to fast track your business is to learn from someone who's already been there. – Geralin Thomas
People who learn as much as they can and properly set up the foundation of their business have a higher success rate. – Geralin Thomas
The best thing people in our industry can do to almost guarantee their success is to build their credibility and professionalism. – Geralin Thomas
NAPO membership and the foundation it provides seems to set the successful organizers apart from others who choose not to get involved that way. – Geralin Thomas
Networking can be so many things nowadays – anywhere from standard media like print and TV to social media and podcasting. – Geralin Thomas
A lot of trends come and go so you need to keep your foot on the accelerator when it comes to your marketing. – Geralin Thomas
You need to scale your business in order to build the life that you want to live. – Geralin Thomas
Ways to connect with Geralin Thomas: