Episode 24: Problem Solving Straight to the Bank – with Jan Lehman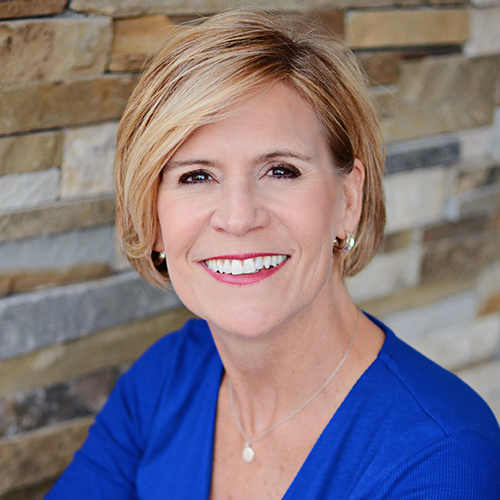 Sometimes skills are invisible to their owners. It takes someone saying to us, "Wow! You're really good at that," before we realize that not everyone can do what we can do.
In this episode of Stand Out: Growing Your Organizing and Productivity Business, host Sarah Karakaian talks with Jan Lehman. Jan found out early in her career that not everyone has the same level of problem-solving skills. She puts those skills to work and encourages others in the field of productivity consulting to embrace these skills and take them to the bank.
Your ability to see where workflow can improve, the tools you have developed and learned to maximize your time and help clients maximize theirs – that amounts to some golden opportunities. In this episode, Jan shares her best ideas on growing a productivity consultancy.
Jan is an executive coach, productivity consultant and speaker. She is the founder and CEO of CTC Productivity. CTC is a Twin Cities-based, woman-owned and operated business. With over 20 years of corporate consulting experience, Jan is not just an expert in the field of productivity, she personally understands the unique challenges of leading a busy professional life. With three young children and a company to run, Jan gets the importance of maintaining a work-life balance.
The roots of Jan's business acumen and people-first attitude can be traced back to her formal education. She earned a business degree in Operations and Systems Management with a minor in Psychology from Indiana University Kelley School of Business. CTC is the perfect forum for her to blend her people skills and productivity expertise.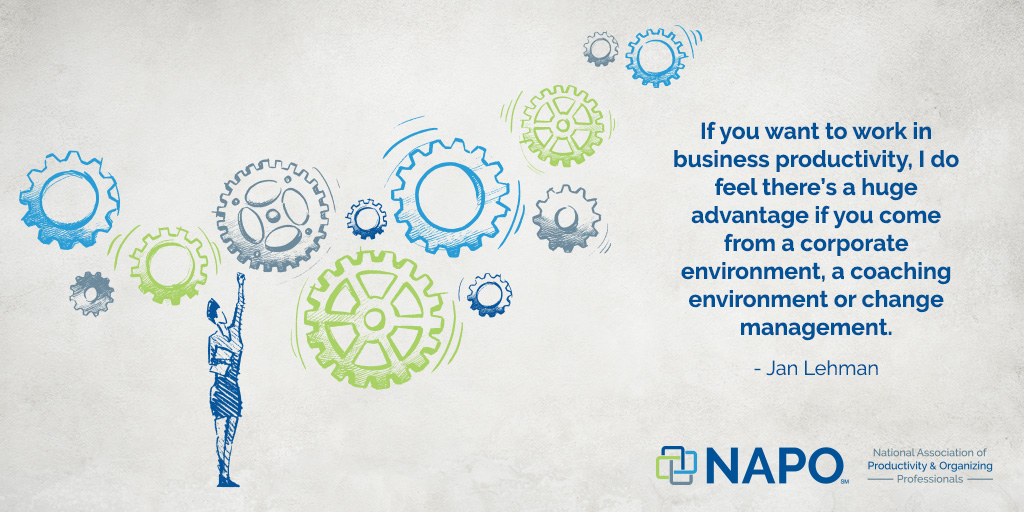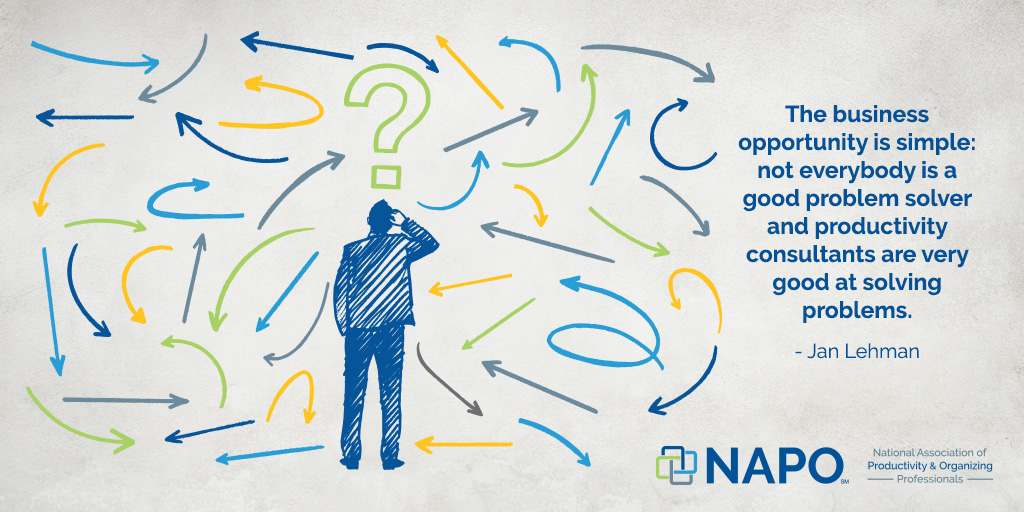 What You Will Learn in this Episode:
Why the ROI for business productivity consultants is generally larger than the personal productivity side
Why your problem-solving skills as a productivity specialist are so valuable
How to look for and encourage employee skills and interests beyond the job description
What you need to know to run a corporate productivity business
How connecting with people in a NAPO special interest group (SIG) can get you asking and answering the right questions to solve problems and gain knowledge
Why online communities like SIGs are such a great source of information, referrals and comradery
How to capitalize on opportunities to advise on productivity challenges, as well as opportunities to implement changes for greater productivity
Why productivity consultants are uniquely qualified to run their own businesses
Golden Nuggets
"When I hire, I also look for what other talents and passions the new hire has. If I can meet a need in the organization and have them doing things they enjoy, that's a win-win." – Jan Lehman
Click To Tweet
"In the home organizing realm, it typically is tangible, physical organization. The business side is often intangible. It's helping people organize their time, organize their priorities, organize their workflow, organize their team." – Jan Lehman
Click To Tweet
"I think productivity consultants are uniquely qualified to run their own business because they want to eliminate waste so they can solve problems." – Jan Lehman
Click To Tweet
"Any good change management process allows members to voice their concerns and be heard." – Jan Lehman
Click To Tweet
"What we're doing is providing organizational skills to drive productivity at home and at work. It's about using your time wisely no matter what you're doing." – Jan Lehman
Click To Tweet
"At the end of the day I hate waste. I hate seeing wasted time, wasted opportunity. I love getting in with problem-solving skills and helping people sort out that kind of waste." – Jan Lehman
Click To Tweet
"Advice is not going to go anywhere if that individual isn't willing to try things and be open to change. Because what we do is behavioral change." – Jan Lehman
Click To Tweet
"Sometimes we get brought in just to give the advice and sometimes we actually implement the change." – Jan Lehman
Click To Tweet