Episode 38: Finding Your Niche in Technology and Digital Organizing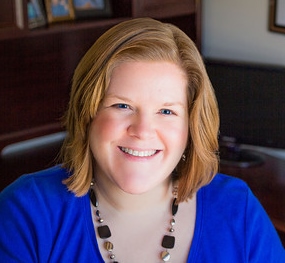 Episode 38 of Stand Out features NAPO Member since 2011, Jennifer Stewart. Jennifer has been empowering her clients to understand their computers and technology tools since 2011. Jennifer is the immediate past president of the St. Louis Chapter of NAPO, past speaker at NAPO conferences and a co-leader for the NAPO technology Special Interest Group (SIG). Being in the technology and digital organizing space, she teaches her clients to reduce computer frustration and disorganization, eliminate email overwhelm and understand Microsoft programs.
Her passion comes from helping her clients make their own lives easier by learning how to manage their digital lives more effectively. On this episode, Jennifer shares her own journey transitioning from a corporate job to becoming an organizer and the process she went through to discover exactly which area she wanted to focus on. She also provides an overview of what a digital organizer does, why there is so much potential in this industry and practical tips for keeping up to date with the latest technology. If you are involved in this field or are thinking about becoming a professional organizer, this episode is not to be missed.
3 takeaways from this episode:
1. Discover what technology organizers/trainers do.
2. Learn why this niche is so unique.
3. Explore why technology organizing is a vital part of NAPO's productivity "arm."
Key Points from This Episode:
•    An overview of how Jennifer got into the technology and digital organizing space.
•    How working with life and business coaches helped her recognize when pivoting was due.
•    Discovering that she loved helping people with computers and computer training.
•    When Jennifer joined NAPO and its significant role in her business.
•    What a technology organizer does and the different areas they focus on.
•    The diverse avenues of technology organizing and why it's such a promising field.
•    What about those people who do not necessarily want their own businesses?
•    How a tech organizer can keep themselves up to date with technological changes.
•    A helpful exercise for pinpointing exactly what your passion is. 
•    And much more!
Links Mentioned in Today's Episode:
Sara Karakaian on LinkedIn — https://www.linkedin.com/in/skarakaian
Jennifer Stewart — https://www.gatewayproductivity.com/
Jennifer's Email Address — jennifer@gatewayproductivity.com
Microsoft — https://www.microsoft.com/
NAPO — https://www.napo.net/
NAPO Conference — https://www.napo.net/page/conference_about
NAPO Education — https://www.napo.net/page/education
Join NAPO — https://www.napo.net/page/joinNAPO
Evernote — https://evernote.com/
Google Alerts — https://www.google.com/alerts